Lady VanWinkle's does restore quilt. Over time quilts get worn around the edges and sometimes the backing wears out. As long as the quilt top, piece work, is in good shape we can restore your quilt for you.
Our process is, we remove the backing and batting and depending on the the condition of the borders we may remove part or all of the borders. Once all damaged material is removed we apply new batting, backing and borders for you. This is the perfect time decide if you want a larger quilt than your original quilt. We can make your quilt larger by adding or extending your borders. You can provide the new materials or we can match your quilt top and select your materials for you. We have the batting on hand.
If you are looking to restore your quilt, click on the Contact Us link below to contact Lady VanWinkle's. In the message box indicate that you are wanting a Quilt Restoration consultation .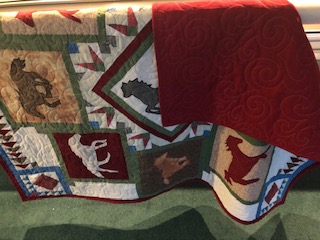 About Lady VanWinkle's
Are you looking to buy a handcrafted quilt. Check out our Quilts for Sale. If you are looking to customize your own quilt? Click the following links for Longarm Stitching services or contact us.