Lady VanWinkle's LLC offers many services which include but are not limited to Quilting, Binding, Blocking & Trimming and Longarm Basting for hand quilters. So if you just want to focus on your piece work contact Lady VanWinkle's LLC and we'll take care of you.
See Below Services and Pricing.
Edge to Edge/Pantograph
Minimum $60. for quilts
Low Density Pattern – $0.020 per square inch

Basic, Larger Patterns, more than 1 inch space between patterns

Medium Density Pattern – $0.025 per square inch

Patterns, on average 1 inch space between patterns

Heavy Density Pattern – $0.028 per square inch

Patterns that are less than or equal to one inch on average
Thread/ Bobbins
Thread is included in the pricing
Loading Fee
Batting
Ask about Batting availability at time of purchase – Currently we have:
100% cotton (Nature's Touch; Warm & Plush)
80/20 Blend (Warm & Natural)
100% Wool (Hobbs Tuscany)
50%/50% cotton+wool (Pellon)
Block & Trim Quilt
Baby or Lap Quilt – No Charge
Twin or Full – $8.00
Queen – $13.00
King Size – $15.00
Binding
Cost to prepare binding is included in price below: Cut, sew, iron|Customer provides material.
Sew binding one side $0.15 per linear inch
Sew binding both sides using Heirloom stitch $0.20
Basting for Hand Quilter
Machine basted 1" stitch every 5 to 6 inches to prepare for hand quilting – $0.1 per square inch, minimum $30.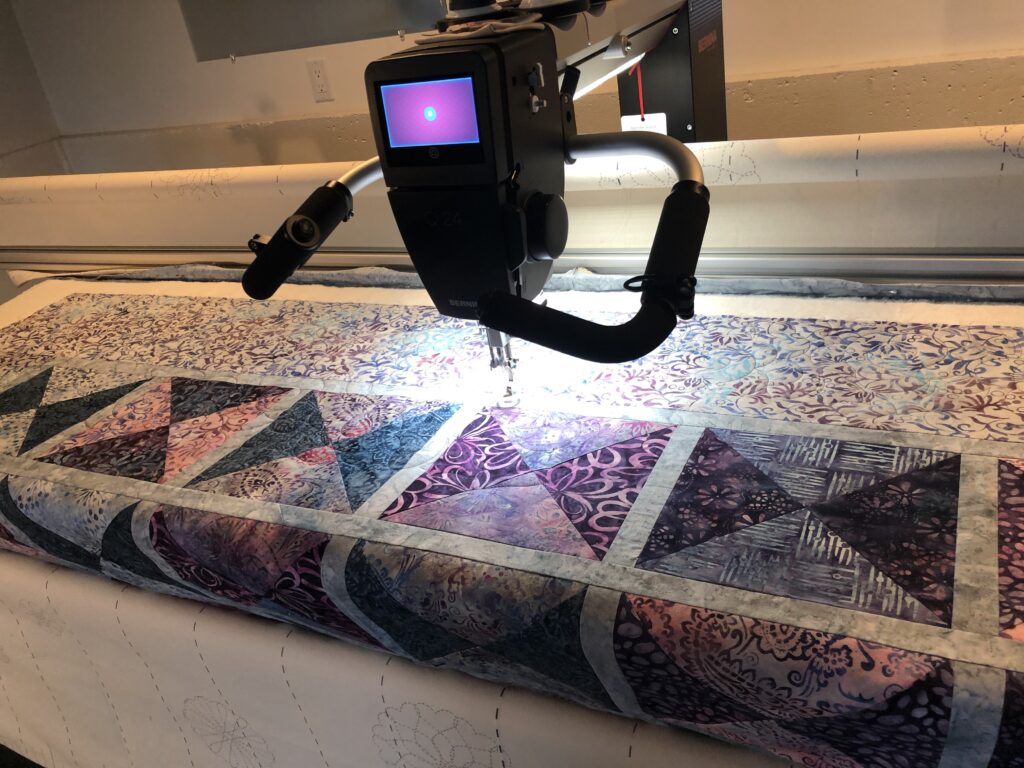 About Lady VanWinkle's
Are you looking to buy a handcrafted quilt. Check out our Quilts for Sale. If you are looking to customize your own quilt? Click the following links for Longarm Stitching services or contact us.